Mbl.is - "We don't let the distance separate us"
22.08.2016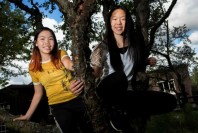 mbl.is/Ófeigur Lýđsson
Culture and Living | Morgunblađiđ | Mon 22 Aug 2016 | 20.21 GMT
Dóróthea and Alda in Alda's garden in Reykjavik. They are both turning fourteen later this year. mbl.is/Ófeigur Lýđsson
Alda and Dórothea were adopted from China to Iceland. One lives in Reykjavik and the other lives in North Iceland near Mývatn. The two girls have been best friends from childhood and they meet up with their families at Mývatn every summer. 
"We met when we were two years old according to our parents, because we don't remember," they say. "Our first memories are from being outside playing or inside watching Söngvaborg (a children's television show with music). We would dance around in our swimsuits and sing along." Alda Áslaug Unnardóttir and Dóróthea Örnölfsdóttir don't let the distance between them separate them. "We talk a lot on Skype and Facetime."
Both girls were born in 2002 and there are only four days between their birthdays. "When mum adopted me from China she didn't know about this other little Chinese girl living up north. Destiny brought us together when my mum met my dad. He works at the Mývatn Research Station during the summer, only a stonethrow away from Dórothea's home."
When Alda's parents, author Unnur Ţóra Jökulsddóttir and biologist Árni Einarsson started a relationship, Alda spends her summers at Lake Mývatn, which means that the two girls can spend their summers together. Sometimes they also visit each other during the winter, each having attended classes at the other one's school. 
"Usually when we meet up we're really happy and if one of us is a bit down the other one cheers her up. We don't argue. We may not always agree though. We're pretty different. Dórothea is really fashionable and I'm not," says Alda. Dórothea adds that Alda loves animals and studies music and she doesn't."
The two girls come from two different areas of China. Dóróthea is from Lai Bin in the south, near Vietnam, and Alda is from Chongchinq in the Szechuan region in the south west. Both of them have been back to China, Alda when she was six and Dóróthea when she was four, when her parents went to fetch her younger sister, Ólöf. Both of them say that they don't really feel a special connection to China or to get to know Chinese things, they just feel Icelandic. "When we were younger it was cool to have been adopted, to be from another country," says Dóróthea. Alda however says she got picked on when she started secondary school, something which didn't last very long though. Dóróthea didn't get teased at school, probably because everyone in the countryside where she's from knew her. 
"Often people address us in English because they think we're foreigners. Then we just reply in Icelandic. We often just say good morning in Icelandic when we're in shops so that the shop assistants don't speak to us in English."
They do get all sorts of questions about their adoption and about China. "Having been adopted doesn't matter to me and I don't think about it. I don't feel any different to other Icelanders although my looks are different to most people who live here," says Alda. 
However, they do sometimes think about the fact that they have parents in China which they have never met. "It's a strange feeling to think that I have other parents, who are my bloodparents," says Alda. They don't like explaining to other kids when they're asked, "Who is your real mum?"
Both girls have plenty of friends and are starting ninth grade. They both want to go to MH, one of the largest colleges in Reykjavik when they finish secondary school, although Dóróthea might want to spend one year at one of the colleges in North Iceland.